It is exciting to announce the latest updates on the FunIQ Academy. What started like just a minor project is blossoming into something more powerful. Now, let's do the introduction again.
What is FunIQ Academy?
FunIQ Academy is an online learning platform that gives students and instructors the freedom to learn or share their knowledge. We are just starting with two original courses "Website Development with WordPress & Indie Book Publishing Masterclass". We are in touch with several instructors who are already warming up and preparing their courses for this amazing platform. As a young platform, we know that the only way to scale is to offer instructors and students what another platform isn't offering them.
In a bid to give users an amazing experience and create some sense of community and what we may call eCampus, we decided to rebuild FunIQ Academy from the ground to the top. As a result, all previous users who are already enrolled in a course may have to start afresh if they want to continue on the new platform but we've got you covered. Here is how.
We moved the old platform to learn.funiqskills.com and you can continue your previous classes and maintain the experience that you've always had. However, you may not be able to automatically sign in with social media accounts. After one year or after all, students have indicated interest to move to the new platform, we will close the old platform.
Now, let's talk about what's new!
Easy Navigation
We noticed that users had several challenges with navigating the website on the previous version. In revamping the platform, we implemented several changes making it super easy to log in, access account settings, navigate courses, and do other things that the platform offers. Logged in users will be able to have more options on the menu dropdown that gives them easy access to important settings.
Right from the header, you can see messages and notifications. There is a drop-down for logged-in users where they can see specific items that relate to their activities on the platform.
Easier Learning Experience
We revamped the learning experience on FunIQ Academy to make it free from distractions but also make it easy to navigate even as we try to be as minimalist as possible. When taking a course, everything that has nothing to do with the course including the header, footer, and other menu options is removed. You wouldn't get notifications of any kind except you to allow notifications on your browser.
On the course sessions, you have the following options
Lesson List
Browse Q&A
Go to Course Home
Complete Lesson
Our Q&A feature allows you to ask questions while you are learning and any student or instructor can answer your question. You can also contribute to the resources by answering questions. The tab also allows you to view other questions and the answers. This is particularly helpful to make learning easy and also create that feeling of community that makes you realize that you are not learning alone.
The videos are not interrupted by ads.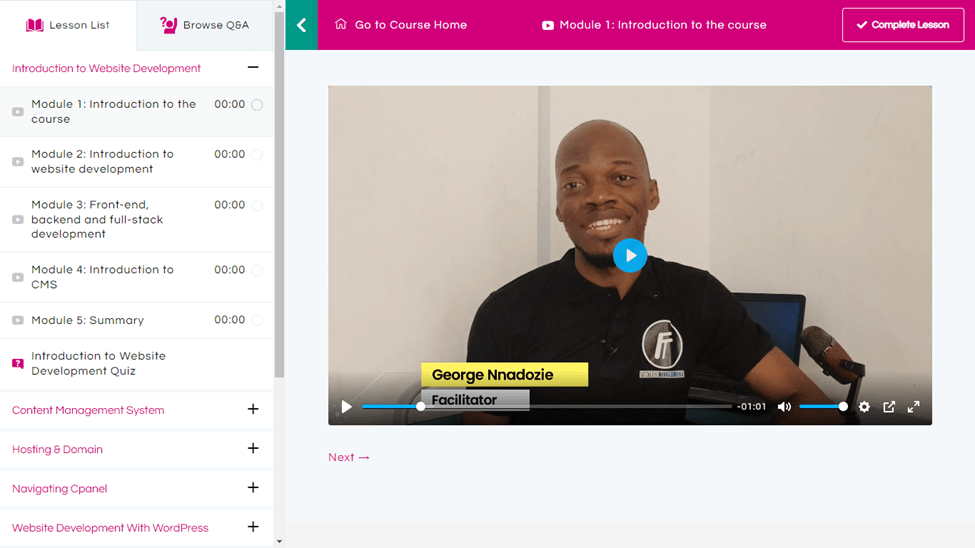 Improved Dashboard
One of the core places we improved is on the dashboard area for both students and instructors. From the dashboard, students and instructors can have a full view of their courses, progress, or earnings. Instructors can also create new courses with the click of a button. From the dashboard, Instructors can also set up their withdrawal method to be able to withdraw their earnings from FunIQ Academy.
Instructors can also connect their zoom to their classes, view detailed analytics and carry out other instructor-specific tasks.
There are lots more available from the Dashboard but we will be answering every question and releasing all necessary documentation on support.funiqskills.com.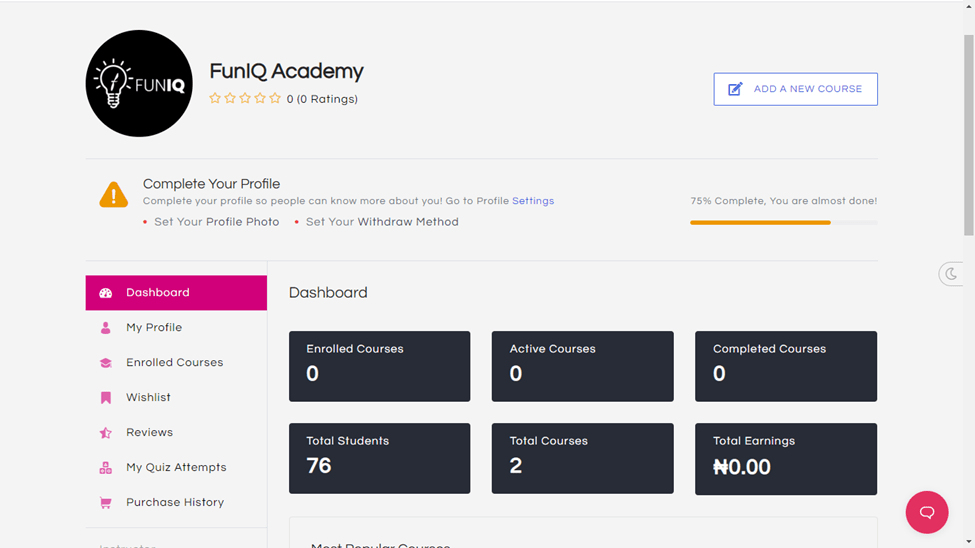 Community
At the heart of FunIQ Academy is our community of students and instructors. FunIQ Academy isn't just an eLearning platform but an eCampus. With the new social network feature, students and instructors can interact, participate in groups, update their status with their latest activities, and even communicate privately. We have built a robust system to make our students understand that they are not alone.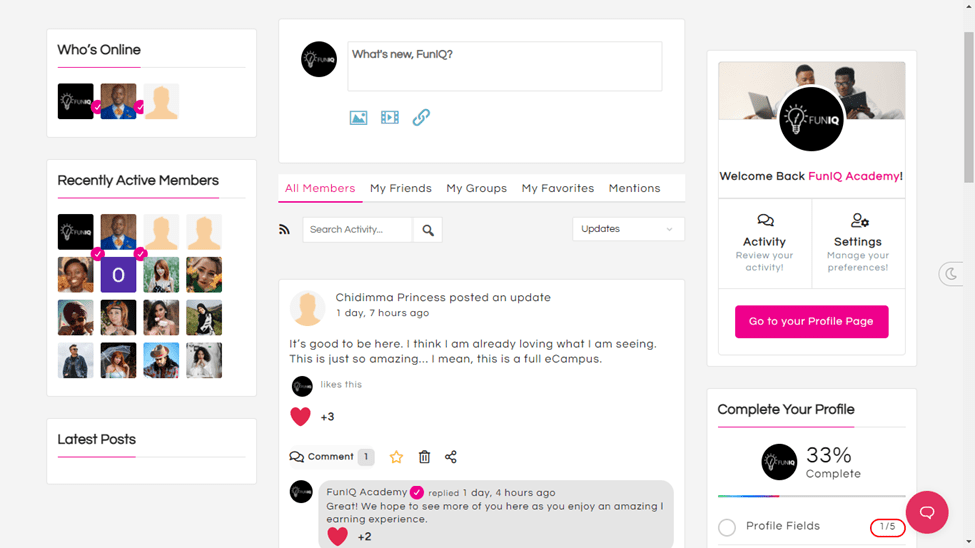 The community, or what you may call eCampus comes with a lot of features. Instructor's profiles are automatically verified with a badge. One of the best aspects of the community is the groups. At the moment, users aren't allowed to create groups and this may be opened in the future. However, we create and manage different groups. Instructors can also privately request for groups to be created for their courses and they will be made admins or moderators of such groups.
With the group feature, students can narrow down their conversations and activities to a specific topic. For example, there is a group for the Women4Tech Program, this group is specifically for the participants of the scholarship program offered to young women every day.
The community comes with social networking feature that you would need to explore on your own.
Summary
There are still many features not mentioned or explained in this article because we don't want to bore you with a long read. But as you explore this platform, we believe that you will be thrilled with the advantages of learning or teaching at FunIQ Academy. Now that we have done the big stuff, it is time to focus more energy on getting more instructors and providing you with valuable courses. This doesn't mean the improvements have ended, it means that we are entering yet another phase of this project.
Yet to sign up? Visit funiqskills.com
Was this article helpful?
Let us know if you found this helpful.